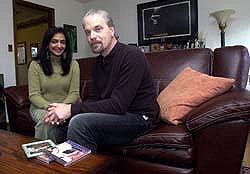 Staff photo by John Keating
Nadma Akhtar is recording a CD
with the help of South Brunswick
resident Gary Nesbitt.
R'n'B with an Eastern flair
Thursday, February 7, 2008 8:48 PM EST
by Madeleine Johnson, Social Editor

Had she followed her original career path, Najma Akhtar would have become a chemical engineer and the musical world would have been denied her unique blend of East-meets-West tunes.

Ms. Akhtar, who returns to England today (Thursday) after spending two weeks in South Brunswick, is a vocalist, actress, instructor and composer whose albums and work have pushed her to the forefront of the world-music genre for more than 20 years.
Now, with the help of Monmouth Junction resident Gary Nesbitt and his wife, Terri, she is working on a few new recordings with acclaimed guitarist Gary Lucas and engineer Kurt Reil, owner of the Highland Park recording studio, House of Vibes.

"I had been corresponding with her for probably for about two years and we've been kicking around musical ideas," said Mr. Nesbitt, who used to work with, manage and book blues musicians 15 years ago.

The two crossed paths when Ms. Akhtar started writing about her experiences after the 2005 earthquake in Pakistan. She sent e-mails detailing what she encountered in the aftermath to several recipients, one of whom was Mr. Nesbitt. "I happened to be in Pakistan when the earthquake came and it was quite terrible," Ms. Akhtar said. "I ended up staying there for a few months trying to work with the earthquake relief efforts. I started e-mailing quite detailed and quite emotional stories, and Gary was one of the recipients of those e-mails. He started writing me back about what was happening in America."

The two started seeking a collaborative musical effort in March 2006 after Ms. Akhtar sang on the title track on saxophonist Stan Harrison's album, "The Optimist." The result was a demo album with the Grammy-nominated Mr. Lucas, which was recorded in October at Mr. Reil's House of Vibes.

"We ended up doing a fantastic four-song demo and we had a wonderful engineer. Kurt did the most amazing job of getting the right balance and I went back to London very happy," she said. "Then we said, 'OK, let's take this a step further and write more songs,' which is why I came back to New Jersey."

Ms. Akhtar has played with other big-name musicians, including some work with Andy Summers, best known for his guitar work in The Police, and a recording and touring stint with former Led Zeppelin members Robert Plant and Jimmy Page. Her music has been featured in major motion pictures, such as the 2002 film "People I Know," which starred Al Pacino and Kim Bassinger.

She maintains a humble attitude despite her impressive accomplishments, and Ms. Akhtar simply wants to perform for herself and to make a connection with others.

"For me, music is very spiritual. I think stemming from Indian classical music, it's all from the soul," she said. "I'm giving my heart and my soul to the audience. The biggest reward is when people come up to me and say 'You've moved my heart' or 'You've touched my soul."

Ms. Akhtar distinctly remembers performing with an Irish folk singer in Japan and being moved to tears by the audience's reaction to her songs.

"I could see this row of ladies and they were singing my lyrics. When I came off the stage I literally cried," she said. "I was very touched. They moved me rather than me moving them."

When she's not masterly mixing jazz, Asian, folk and blues with the Indian music of her heritage, Ms. Akhtar works as a vocal instructor — most notably as a coach on Andrew Lloyd Webber's musical "Bombay Dreams" in 2002. Her theatrical work has even led her to a few acting gigs, which she enjoys because she gets to perform while escaping the limelight.

"When you're a singer, people are always looking at you. In a play, it was really nice to be lost in all those people," she said.

Ms. Akhtar's words of advice to aspiring musicians are tinged with her years of experience and honesty.

"Just persevere. You have to perfect your art and dedicate your life to it. Don't go get drunk and party all the time — look after yourself," she said. "You do need Lady Luck on your side, you need to be at the right place at the right time, you need to have the right people promote you."

Ms. Akhtar will be returning to South Brunswick in May to continue her work with Mr. Nesbitt and Mr. Lucas.

"I'm just speechless," Mr. Nesbitt said of his work with Ms. Akhtar. "It's absolutely fantastic this project is happening. Hopefully it's going to lead to some very big things."

One of those big things already includes a May 3 concert with Mr. Lucas at Joe's Pub in New York City. Mr. Nesbitt said he believes this show, which will be the first time Ms. Akhtar and Mr. Lucas play together for an audience, "will be the first of hopefully many, many shows" for a musical partnership that has the potential to lift off.

"This is just the start of it," he said.