BULLZ-EYE.COM
Westlake Ohio
Pat Dinizio:
Pat Dinizio/Buddy Holly
Rock, Pop | 2009 | Buy the CD
Reviewed by Lee Zimmerman

It's been nearly a decade since the Smithereens released their last album of all-original material. That's not to say the band hasn't been busy; in the last couple of years they've been content to retrace the past, via an album that paid tribute to Beatles B-sides and their own back catalogue via a live greatest hits package. So it shouldn't come as a huge surprise that Pat Dinizio, the band's de facto guiding light, has opted to continue that tribute trajectory on his own, giving a nod to his formative influence – pop pioneer Buddy Holly – on the 50th anniversary of the tragic plane crash that ended Holly's life.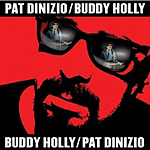 Smithereens, Elvis Costello, Raul Malo

LABEL
Koch
Dinizio's never shied away from celebrating the source of his inspiration, and by fusing his name with that of his idol in the album's title, the bond can't be avoided. He's already offered plenty of precedent when it comes to keeping things straightforward, as evidenced by the way he bannered his two previous solo efforts – 2006's This Is Pat Dinizio and the eponymous follow-up released a year later. It ought to be noted, however, that Dinizio's humility isn't limited to his unassuming album titles; as with the Beatles set, he tampers very little with Holly's original template. Notably, he employs strings on many of the selections, a nod to the more sophisticated settings that Holly himself toyed with towards the end of his career. Truth be told, the orchestrations sometimes seem overly dramatic, such as the brief overture that precedes "Words of Love" and the symphonic sheen that graces "Well Alright" and "Peggy Sue," two of Holly's more venerable rockers. Even in the context of the ballads, the lush accoutrements come perilously close to blurring the distinction between the muse and mere Muzak.

Fortunately, credibility comes in the form of arranger Charles Calello, a studio veteran whose resume includes albums by Bruce Springsteen, Barbara Streisand and Neil Diamond, among other A-list artists. A doo-wop rendition of "That'll Be the Day" also seems appropriate, given that the treatment echoes a specific genre from that earlier era. And while Dinizio's aching croon often adds to the melodrama – witness the way he steers "True Love Ways" from longing to a lament – he parlays an undercurrent of wry irony that brings to mind Elvis Costello's swagger and sneer.

With this tragic anniversary upon us, there will probably be no end to Holly tributes in the coming year, many of them from unlikely sources. However, given Dinizio's reverence for rock's deepest roots, it's doubtful any will be as heartfelt as the homage offered here.